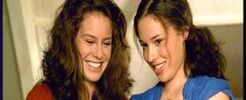 Ellie
is the second oldest child in the Aarons family.
Ellie is smarter and more responsible than Brenda she's the one who knows how best to manipulate their mother and suck her into giving them money. She's also the one to take the lead and let Brenda know when enough's enough.
In the 2007 film, she likes to watch Hannah Montana and music videos on TV with Brenda. When Jess gets home from his first day of school, she is seen watching Hannah Montana on TV and kicks Jess in the butt when he steals some of her popcorn.
She is portrayed by Emma Fenton in the 2007 film. She was never seen in the 1985 film.